Hyundai Motor Manufacturing Czech celebrates production of 4 millionth vehicle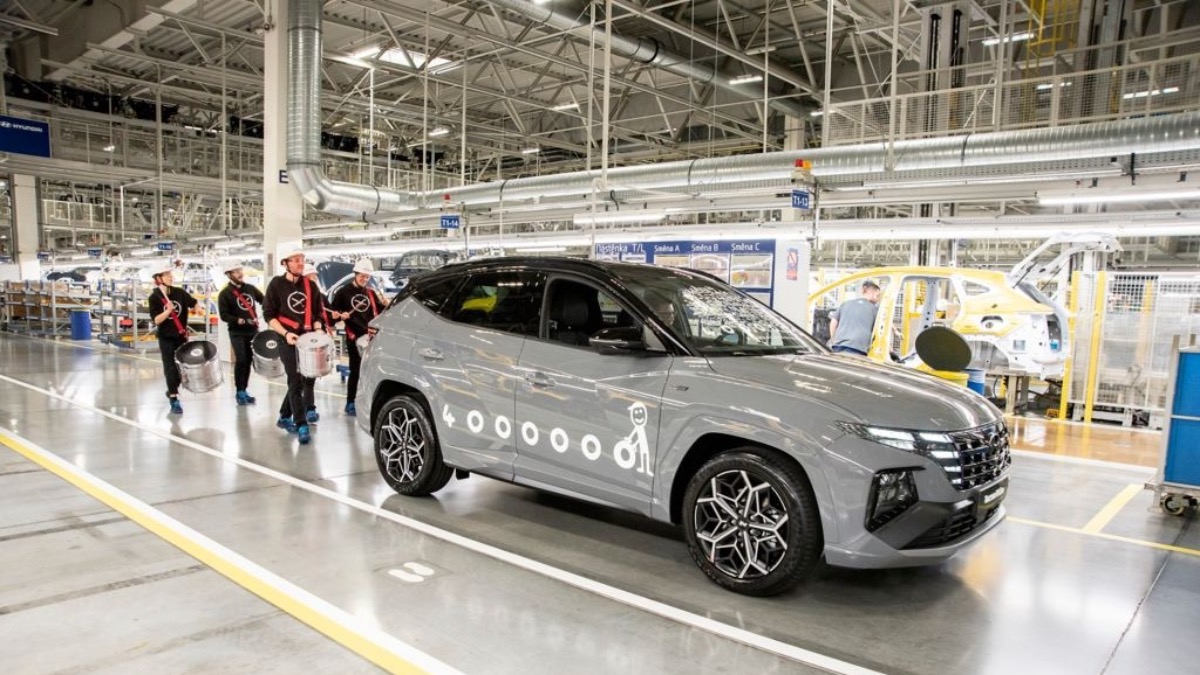 Following the first millionth unit in 2013, the second in 2016 and the third in 2019, Hyundai Motor is now celebrating another milestone at its Hyundai Motor Manufacturing Czech (HMMC) plant in Nošovice, Czech Republic. On Monday 14 November, HMMC produced a car with the serial number 4,000,000.
The landmark car was a Hyundai TUCSON N Line, outfitted with dynamic equipment and in a mild-hybrid version, produced for customer from Olomouc in the Czech Republic. Despite the pandemic, global supply chain issues and other external influences, HMMC has managed to maintain a high production rate. This year, it expects to produce over 321,000 vehicles, surpassing the 'pre-pandemic' year of 2019.

"Our employees and suppliers deserve immense credit for how they have managed to cope with the challenges of the past few years. I am delighted that, thanks to their skills and diligence, we are able to celebrate another significant milestone. The Nošovice plant is of great importance to Hyundai Motor Group, and its significance will only grow in the coming years, given the challenges facing the automotive industry."

The 4 millionth Hyundai car produced at HMMC reflects the current electrification trend. While the plant exclusively produced ICE models until 2019, in early 2020 it commenced production of the Hyundai KONA Electric, which became the first mass-produced BEV in the country. In autumn 2020, production of HEV and PHEV vehicles also began in Nošovice with the fourth-generation TUCSON. Meanwhile, the share of cars with diesel engines has declined in recent years, with these models making up only 9 per cent of vehicles produced at HMMC this year.

Electrified cars consisting of EVs including HEVs, PHEVs and BEVs have accounted for nearly 40 per cent of production at HMMC so far this year, and the share of these will continue to grow in the years to come.

Cars produced at HMMC are not only for Europe

More units of TUCSON have been produced at Nošovice than any other Hyundai model, accounting for over 70 per cent of production since opening of plant in 2008. The i30 model range, which is available in hatchback, wagon and fastback body types, accounts for around 17 percent of HMMC's production, while KONA Electric accounts for a tenth of production. The award-winning i30 N, which is produced as both a hatchback and fastback, accounts for the rest.

Germany remains HMMC's largest customer, with over 14 per cent of models produced so far this year heading there, followed by the UK, Spain and France. TUCSON leads the compact SUV segment in Europe this year, building on last year's strong sales results. However, units of Hyundai's global bestseller produced in Nošovice are also shipped to the Middle East and other parts of the world. So far in 2022, cars from HMMC have been sold to 66 destinations.

While most HMMC-produced units have been delivered to Germany this year, the i30 is more evenly balanced. Germany and Poland share the top spot with virtually the same number of cars, while the Czech Republic is the third largest buyer of the i30 range. In fact, the i30 is the best-selling model in the private segment in the Czech Republic. Slovakia, Austria and Romania are next in the rankings. The KONA Electric is the most sought-after car in Germany, France, Norway and Italy, while Australia is the second largest market after Germany for the high-performance i30 N.

"We increased the production line speed from 57 to 65 cars-per-hour in April this year, and we have been able to maintain this even though we have to deal with a difficult global parts supply situation. HMMC is experiencing strong demand for our cars and we are doing our best to satisfy our customers. We are making preparations for new models that will be produced here in the years ahead. Our team of engineers is working not only to ensure the manufacturability of these cars on our production lines, but also to verify their functional characteristics. Thanks to this, we also have the opportunity to influence the character and parameters of the cars."

Changes in production processes go hand-in-hand with the new additions to Hyundai's model portfolio. Among other things, HMMC is investing in technologically advanced automation. Examples include the transport of batteries for the KONA Electric from the warehouse to the production line via autonomous trolleys. In the summer, a new robotic station consisting of six robots was added to the final assembly shop, which automatically tightens all important chassis connections.

The number of employees at HMMC has increased year-on-year due to the increase in production, and the plant now employs almost 3,300 people, 92 per cent of whom are Czech citizens. The average employee is over 38-years-old and has been with HMMC for over eight years. The company offers its employees above-average financial compensation and a wide range of benefits within the Moravian-Silesian region and the whole country.

A responsible and sustainable business

The Nošovice plant is considered a pioneer in the field of green energy within Hyundai Motor Group. At the start of 2022, HMMC became the company's first production site to exclusively use electricity from renewable sources - including biogas plants, photovoltaic and wind power. All the energy HMMC purchases is backed by certificates with a guarantee of origin.

Activities aimed at reducing the consumption of natural gas and electricity also play an important role at the plant, in line with Hyundai's strategy of sustainability and environmental friendliness. HMMC uses state-of-the-art technology and cutting-edge laboratories to ensure environmental protection. A waste management system has been implemented throughout production: in 2021, for example, a total of 88 per cent of waste was provided for recycling. Corporate social responsibility is also an integral part of the company's strategy, including grant programmes, partnerships with major institutions in the Moravian-Silesian region, and close cooperation with surrounding communities and volunteer activities.

HMMC production highlights

HMMC's most produced model to date is the third-generation TUCSON, with a total of 1,180,445 units produced (29.5 per cent of all cars). The latest-generation TUCSON has produced 423,274 units in the two years since its launch, up to October 2022.

The Nošovice plant's strongest year was 2016, when 358,400 units were produced (246,683 units of the third-generation Tucson, 73,337 units of the second-generation i30, 33,609 units of the ix20, and 4,771 units of the third generation i30. HMMC plans to produce 321,500 units in 2022.

In 2008, 12,473 units were produced (all first-generation i30), while 118,022 units were produced in the first full year of 2009 (111,934 units of i30, 6,088 units of the Kia Venga).