Preparing for driving in Autumn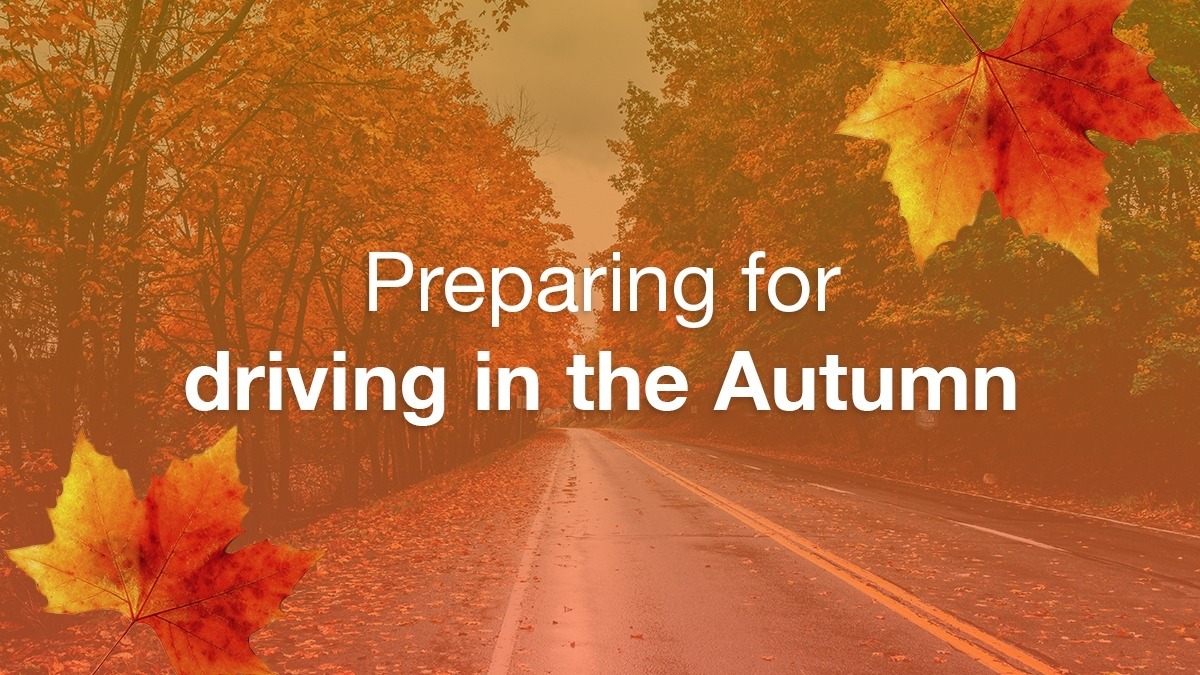 Autumn really feels like it's here now, with the nights closing in later and the pumpkin spiced lattes keeping us warm and energised, it's time to start thinking about the potential driving risks and how we can keep ourselves and others safe, while we drive.
Despite there being 60% less traffic on the roads at night, more than 40% of all fatal car accidents occur at night. So we have put together some helpful tips to keep you safe on the road;
How to drive Safely in the Dark

As the days get shorter, you will be frequently driving in the dark – be sure that you keep all your are lights clean and in working order, particularly your headlights. To ensure your headlights are working fully, it is a good idea to ask someone to walk around your vehicle, while your car is stationary and test all your lights, including indicators and break lights.

Be mindful of pedestrians walking through the streets as they will be particularly hard to spot at night if they are wearing dark clothing. Children will be walking in the morning and afternoon to and from school or the bus stop, typically in dark school uniform.

There will also be cyclists on the path or road, so remain alert while driving, as they may not have reflectors on their bike or clothing.

Always allow plenty of time for journey and drive at a speed that give you the best reaction time and control of your vehicle. Driving in the dark does not always give you visibility of the road ahead. You may also want to consider using a Sat Nav, as road signs and streets may seem harder to navigate in the dark or signs may not be lit up as well, particularly small street names. Using a SatNav, will mean you won't have to be constantly checking for road signs, which could be a fatal distraction, it will also prevent you from getting lost in the dark too.

Keep a safe distance between cars, ensure that there is a two-second rule or the length of 2 cars, from you and the car in front, in the case where there aren't any indicators or chevrons on the road. This will help prevent collisions and provides an ample braking distance.

If your windows and mirrors are fogged up or smeary, ensure that they are cleaning before starting your journey.

When driving on unlit roads and there is no other traffic ahead of you, you should turn on your full beam headlights, to gain full visibility of the road ahead. When you see another vehicle, pedestrian or cyclist approaching you must turn your full beam off as this can dazzle or cause discomfort to other users. When driving around corners, you should see the other road users headlights appearing at the bend, you should dip your full beam before the driver appears in view.

Carry a high-vis jacket in your car. If this does happen and your car break downs, ensure that you have high-vis to hand, not in the boot because you will be almost invisible to passing or oncoming cars, while you walk and open your boot. Ensure that your hazard lights are on before getting out the vehicle and wait for recovery at a safe distance away from the road with your high-vis jacket on.

When driving in foggy weather, ensure your headlights are on low instead of high, this will give you much more visibility of the road.

Overtaking at night can be a risky manoeuvre, and your view ahead will be limited by darkness, of which bends and dips can be hidden by the darkness. Consider - maybe the driver in front is driving slowly due to low visible cyclist, ensure that you are 100% sure that the road ahead of you is clear, before you overtake.

Cold Weather

Check your tyre pressure daily. Extreme changes in the temperature, particularly overnight, will cause your tyre to expand and contract, which could lead to loss of tyre pressure.

The rapid weather changes at night may also cause the roads to freeze overnight, therefore ensure that you drive slowly and brake gently.

Your vehicles batteries should also be considered when driving in cold weather, batteries typically last for 5 years, if there is any sign of your battery struggling now, it is likely it will let you down in the winter when it is colder. Therefore, it is a good idea to replace your batteries now and schedule it to be replaxed or fixed now, to avoid the hassle and unexpected later.

Avoid Glare

During the Autumn, the sun may be rising or setting just as you are setting off on your journey, the sunrise may cause a large amount of glare making it difficult to see the traffic ahead and pedestrians. Clean your windshield inside and out, this will remove any dusk particle, streaks and smudges that will show up against the sun. You can also keep a pair of sunglasses in your vehicle at all times to protect your eyes from the sun's rays.

Wet Condtions

When driving in heavy rain, ensure that you slow down, especially around turns, as wet conditions increase the amount of time it takes to stop. Driving over deep puddles also means that you could lose control of your vehicle, if this happens release the gas pedal until you are in control again.

Leaves pose another risk, as the leaves start to turn orange and fall to the ground, wet leaves can be like driving on ice, so try to avoid them where possible. Leaves can also cover other surprises such as potholes or dips, so ensure you are travelling carefully enough that you can deal with the unexpected.

If your're in an accident

If you find yourself broken down or in accident, Toomey Motor Group are now working with Enterprise, so whether you are at fault or not, we will be here to help through you the process and get you home safely, our helpline number is 0808 239 2888.