CITROËN NAMED 'GREEN HERO' BY ELECTRIFYING.COM FOR PIONEERING OLI CONCEPT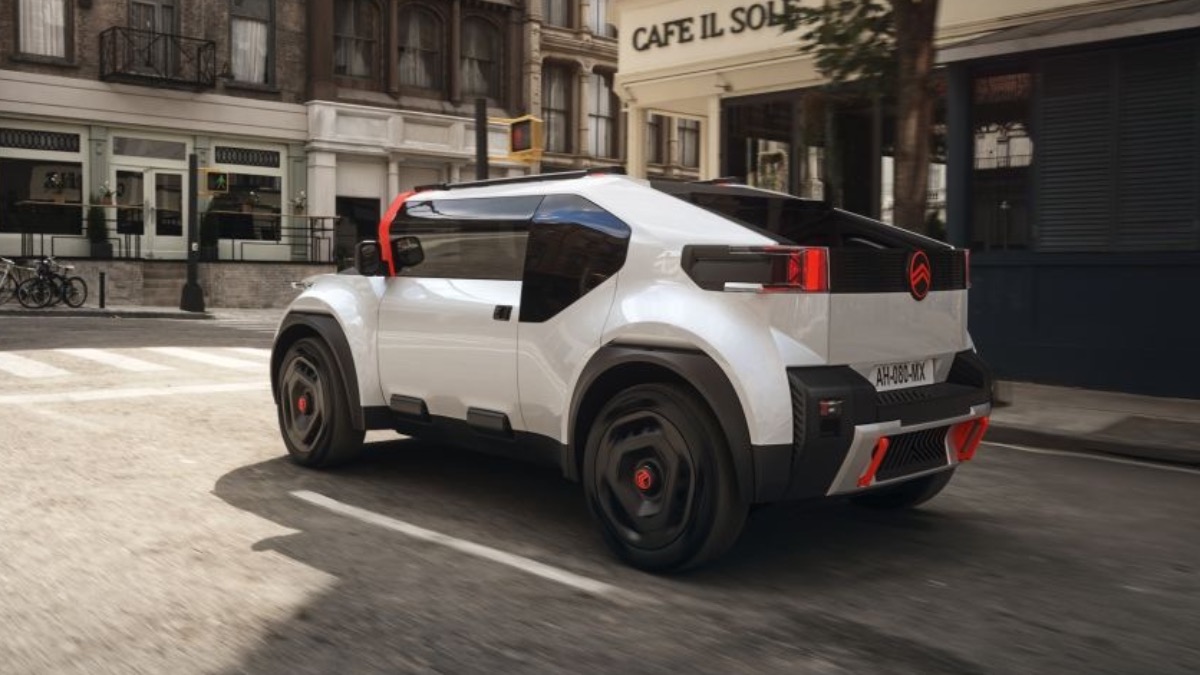 Citroën has received a prestigious 'Green Hero' award from Electrifying.com for its new Oli [All-ë] concept car.
Citroën Oli was revealed earlier this year to showcase Citroën's future design direction and the brand's innovative take on electric mobility for families. Citroën Oli features a 40kWh battery with a 248-mile range, plus the innovative use of recycled and recyclable materials. Designed to reduce weight and improve longevity, Citroën Oli is conceived as a future vision of electric mobility for families.

The Electrifying.com 'Green Hero' award judges consider how each brand offering electric models in the UK is working to make the production, use and disposal of their vehicles more sustainable. The judges examine factors such as carbon-neutral manufacturing, reducing the use of rare-earth metals, and making use of recycled and recyclable materials. Other considerations include sustainable design, auditing of supply chains, and making the shipping and delivery of vehicles more efficient.

Oli showcases a new design direction for Citroën as well as offers an innovative take on the future of electric mobility. Designed to challenge the status quo through the use of recyclable materials, and less complicated production processes, Oli represents all the inventiveness and creativity that Citroën is famous for.

Using lightweight and recycled materials, Oli is designed with efficiency and longevity in mind. The innovative use of responsible materials and a sustainable simplified production process means that Oli is an inexpensive zero-emissions vehicle that meets the needs of multiple lifestyles.

Innovations include reducing the number of components required for the doors and seats to simplify production processes and reduce weight. Oli is also equipped with Vehicle-to-Grid capability, meaning owners can sell energy back to the grid, as well as featuring parts that are 100% recyclable. Its concept tyres are estimated to last up to 310,000 miles throughout their life, thanks to a sustainable carcass and tread that can be renewed twice across its lifetime.

Ginny Buckley, founder and CEO of Electrifying.com, said: "To say that OIi is the most important electric car we've seen in a decade is a big claim; but alongside a host of excessive, expensive electric cars Oli stands out for its thoughtful approach to minimising its environmental footprint, the ground-breaking use of recycled materials and its fresh, creative design. Many manufacturers talk about sustainability, but it's refreshing to see Citroën actually putting it at the heart of what it does."

Tom Barnard, Editor-in-Chief of Electrifying.com, added: "Citroën Oli breaks a cycle which has seen electric cars become more expensive, heavier and less efficient. Oli uses less resources over its lifetime and is designed to last decades rather than being disposable. There are so many innovative features which just make sense and make you wonder why no one has thought of them before."

Vincent Cobée, Citroën Global CEO, commented: "Oli represents the next steps in Citroën's e-mobility journey, showcasing just what's possible with the clever use of materials and technology. For Citroën, the future isn't about ever-bigger batteries, increased EV range and massive electric SUVs. Instead, we believe it's time to think about how to do things differently, and better. Oli is a real-world representation of this philosophy, and crucially it aligns with our fundamental belief in vehicle affordability, accessibility and the circular economy. We are very pleased to receive this 'Green Hero' award from Electrifying.com, which recognises the importance of this vision for the future."

Citroën's 'Green Hero' accolade was awarded by a panel of leading industry experts, including Ginny Buckley (Founder and CEO of Electrifying.com), Charlie Simpson (UK Future Mobility Lead, Advanced Manufacturing and Mobility, Ernst & Young), Dr Andy Palmer (Automotive executive, former COO of Nissan and CEO of Aston Martin Lagonda), and Tom Barnard (Editor-in-Chief, Electrifying.com).

To learn more about Citroën Oli, please click this link.